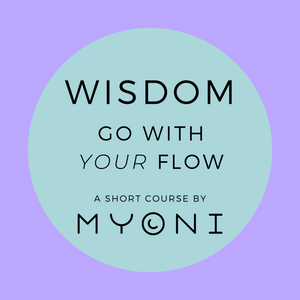 Myoni
WISDOM, short course to going with your flow
Regular price
$55.00
$0.00
Unit price
per
Free Postage Australia-Wide for orders over $45.
WISDOM is a self-paced course that will help you go with your flow.
You will walk away with a deeper understanding of your menstrual cycle, how to work with it, and wellbeing tools that you can use now for a more productive and balanced life as a cyclical being.
Did you know that our monthly cycle can be key to know yourself more deeply, in practical and supportive ways? Perhaps you've tried tracking your cycle but didn't know what to look for or why it REALLY mattered (besides a fertile windows and when your period was due) so you're wondering what the point is?
Maybe you've experienced painful periods, irregular cycles or never quite thought much about what happens between that monthly bleed? Or your period is just an inconvenience you want to avoid all together? We get it. All your experiences are valid and unique. We created this course to provide some new lenses to view periods, cycles and how we relate to ourselves personally and collectively.
Have you heard the words luteal and follicular thrown around but thought they sounded more like pantone colours then something your body experiences? Does this cycle tracking jazz sound too confusing and complicated to even bother? We hear you and this is why the Wisdom course exists!
Wisdom, Go With Your Flow is a self-paced online learning journey.
It's specially designed to help cyclical beings connect to their inner superpower to transform & open up new ways to leverage their relationships, work, health & wellbeing by using the wisdom of their body.
You'll learn:
How the paradigms we're in have shaped our experience

The 4 phases of your cycle and how to work WITH them.

Tools to reflect and integrate your experience & strengthen your connection you to YOU.

Wellbeing tools you can use right away.
You'll get unlimited access to the course portal, including video recordings, audio meditations and a comprehensive workbook that unpacks each topic further, and provides exercises to prompt self-discovery and unpack learnings. 
Join us for a journey into the power of your fabulous cycle.
xoxo
Love, Myoni
---