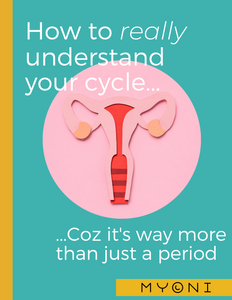 Myoni
How to really understand your cycle... coz it's way more than just a period.
Regular price
$0.00
$0.00
Unit price
per
Free Postage Australia-Wide for orders over $45.
GET YOUR FREE COPY 
... but this is only an introductory ebook, for a deeper, transformative journey, join us for our self-paced course and find out how to embrace every aspect of your cycle.
This free guide is a great place to start to better understand your cycle and has been designed to be read by all age groups. It is a great tool to help have those formative conversations with the young menstruators in our lives.
It is easy to follow and unpacks the 4 phases of our menstrual cycle, the benefits of each phase, and how we can work with the natural rhythm of our bodies. It talks about the practical ways we can support our cycle and how we can use charting to help us understand, predict and record our experience of periods and the menstrual cycle.
---